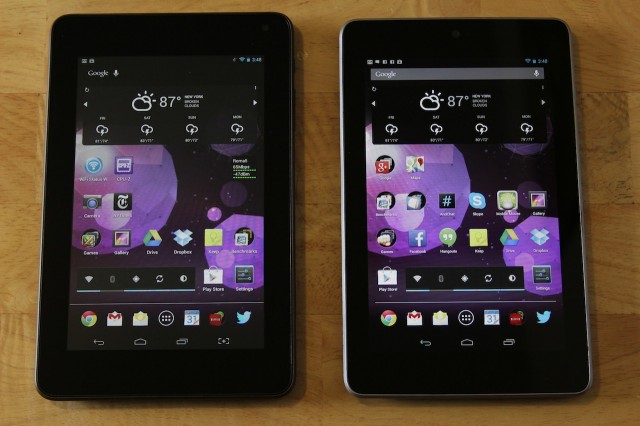 A few weeks ago we reviewed Hisense's Sero 7 Lite, a new budget Android tablet that isn't very good until you consider that it costs $99. The tablet that Hisense really wants you to see, though, is the $149 Sero 7 Pro. This tablet runs a quad-core Nvidia Tegra 3 SoC, has a 1280×800 7-inch screen, 1GB of RAM, and runs Android 4.2. If these specs sound familiar to you, it's probably because they're identical to those of the Nexus 7 tablet that Google and Asus will sell you for $199.
Using the Sero 7 Pro is very similar to using the Nexus 7 with Android 4.2 installed, so for this review we'll be focusing on a side-by-side comparison with the tablet that Google has been selling for about a year now. If you're buying a 7-inch Android tablet today, should you stick with the Nexus or save yourself the $50?
What does it share with the Nexus 7?

Specs at a glance: Hisense Sero 7 Pro
Screen
1280×800 7″ (216 ppi) IPS touchscreen
OS
Android 4.2.1 "Jelly Bean"
CPU
1.2GHz Nvidia Tegra 3 (1.3GHz in single-core mode)
RAM
1GB
GPU
Nvidia Tegra 3
Storage
8GB NAND flash (expandable via microSD)
Networking
802.11a/b/g/n, Bluetooth 3.0, NFC, GPS
Ports
Micro USB, mini HDMI, headphones, microSD card
Size
7.87″ × 4.95″ × 0.43″ (199.9 x 125.7 x 10.9 mm)
Weight
0.79 lbs (358 g)
Battery
4000 mAh
Starting price
$149
Other perks
2MP front camera, 5MP rear camera, power adapter
The screen, the SoC, and the RAM are probably the three biggest hardware components that will affect your tablet experience, and the Nexus 7 and the Sero 7 Pro share them all: a five-point 1280×800 IPS touchscreen, a quad-core Tegra 3 SoC that can run at up to 1.3GHz, and 1GB of RAM. The Sero 7 also includes the same 8GB of internal storage as the original entry-level Nexus 7, but Google's more recent $199 model has since been bumped to 16GB of storage.
Read 16 remaining paragraphs | Comments